Speed up your robot software development
ROS 2 Consulting
ROS 2 (Robot Operating System 2) is a new version of popular robotics middleware. It is a set of open source software components, libraries and tools helping robot developers build robot applications with less effort. ROS 2 has a messaging system, simulators, vizualizers and common software components needed in robot development.
Speed up your robot software development with ROS 2!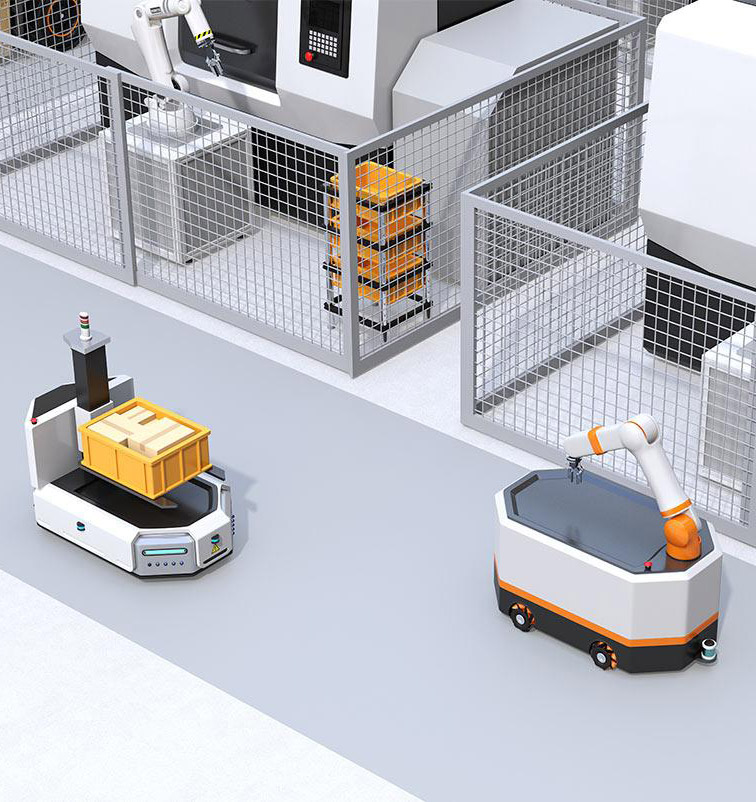 SAFETY CRITICAL, INDUSTRIAL GRADE
State-of-the-art robotic applications
ROS 2 is designed to meet industry grade safety and real-time requirements. It offers a standard software platform to robot developers across industries.

With ROS 2 you can develop state-of-the-art robotic applications without starting from scratch. It provides essential tools you need for building a modular robotic software; for example messaging system between robot nodes (like sensors, actuators and control modules) and most commonly used algorithms in navigation, localization and object detection.
Support for multiple target architectures and operating systems

Quality of service settings for handling non-ideal networks

Support for real-time control
Atostek is the right partner for
Robot Software Development
Atostek has worked continuously with robot software development for more than a decade. Due to long experience we know the best practises in robot software development.

Atostek has worked both with existing robot software platforms and also developed a new robot software platform from scratch. We know how to develop safety-critical, industrial grade robot software. We know the tips and tricks of robot software deployment to complex production environments.
Our ROS 2 consulting services include:
ROS 2 Software development
Consulting, roadmapping, assistance in deployment
Proof-of-concept and demo applications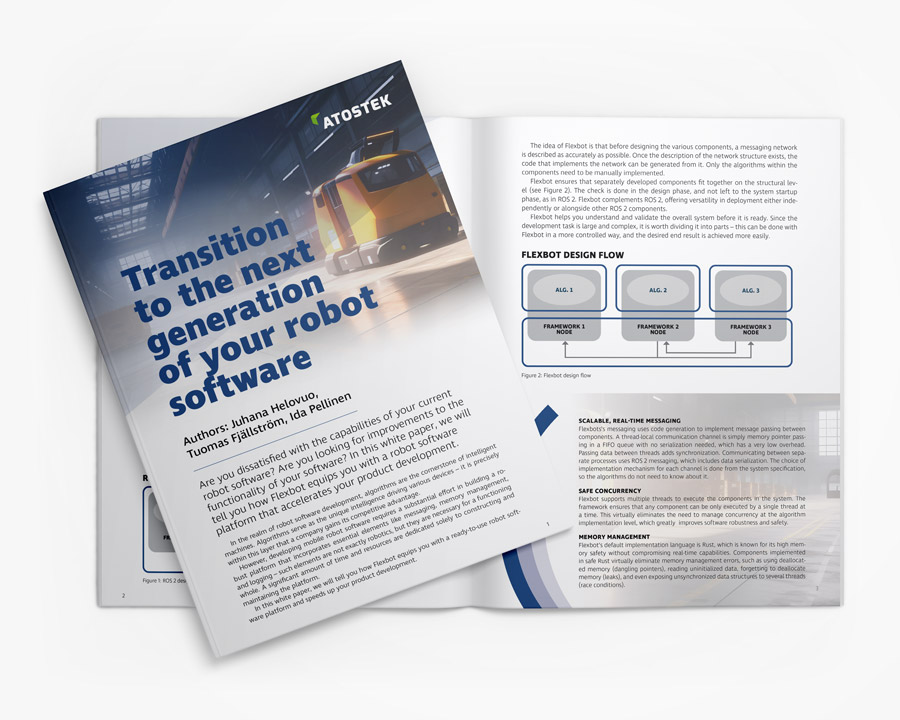 DOWNLOAD WHITE PAPER
Transition to the next generation of your robot software
Are you dissatisfied with the capabilities of your current robot software? Does the development process feel both expensive and challenging? Download our white paper and learn how to simplify, speed up, and cost-optimize your robot software development.